Prague Districts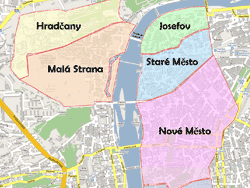 Prague Districts
Prague Districts
Prague is divided into 22 administrative districts. In the first district, visitors will find the city's main attractions. The higher the number of the district, the further away from the city centre it is located.
Finding out a bit about the districts closest to the centre is practical when looking for accommodation in Prague. In our opinion, the best areas to stay in are district 1 and 2. However, the districts 3, 4, 5, 7 and 8 also offer good hotels, apartments and hostals. 
Areas
Visitors will find the best and most interesting neighborhoods in the city center and its surroundings. The historic centre is made up of six neighborhoods, which had all originally been independent towns.