The Strahov monastery belongs to the Premonstratensians, founded by Vladislaus II in 1143. Its current appearance dates from the end of the 17th century.
The Strahov abbey was founded in 1143 by the Bishop Jindřich Zdík of Olomouc, supported by other Bishops and Vladislaus II, Duke of Bohemia. However, it was not until the Premonstratensians arrived in Strahov that the community started to prosper. Its Baroque-style architecture is from the seventeenth century. Since it was built, the Monastery has been reconstructed on several occasions to repair the damages made by enemy raids.
Inside the monastery is the Basilica of Assumption of Our Lady. Near the main alter is a sarcophagus with the founder of the Premonstratensians and Archbishop of Magdeburg, Saint Norbert. Moreover, the temple holds an organ built in 1774, which was played by Mozart when he visited Strahov. Visitors can only access the Basilica during mass.
Most of the rooms in the Strahov Monastery are used for exhibitions and unfortunately cannot be visited. The only two halls that are always open to the public are the Library and art gallery.
Strahov Library
The Strahov Library has two rooms which are, in a way, similar to the Baroque library of the Clementinum, the Theological Hall and Philosophical Hall. In both, visitors will find thousands of books, Medieval manuscripts, illustrations and astronomical and terrestrial globes.
The monastery also houses a small zoological exhibition with a collection of stuffed animals.
Picture Gallery
Strahov Monastery features one of the most important Picture Galleries of its kind in Central Europe.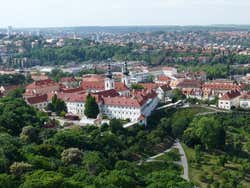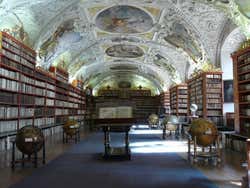 Schedule
Picture Gallery:
Open every day: 9:30 am – 5 pm (lunchtime break 11:30 am – 12 pm)
25 December, Easter Sunday, 20 April: closed
Strahov Library
Open every day: 9 am – 5 pm (lunchtime break 12 pm – 1 pm)
25 December, Easter Sunday, 20 April: closed
Price
Library
Adults: Kč 150 (US$ 6.60).
Students up to 27: Kč 80 (US$ 3.50).
Art Gallery:
Adults: Kč 150 (US$ 6.60).
Children from 6 to 15 and over 65s: Kč 80 (US$ 3.50).
Transport
Tram stop: Pohořelec, line 22.