The St Vitus Cathedral is the most important in Prague, and one of its most significant monuments.
The Cathedral is located in the Prague Castle, with the construction of the temple beginning in 1344, commissioned by the Holy Roman Emperor, Charles IV. The building was reconstructed and redesigned in several occasions by different architects, coming to a standstill during the Hussite Wars. It was finally finished during the nineteenth and twentieth centuries. It was opened to the public by the end of 1929.
It is the burial site of King Wenceslas IV, the Crown Jewels and is where the Kings and Queens of Bohemia were crowned.
Climb the tower
If you want to enjoy the best views of Prague and don't mind climbing 287 steps, then we recommend reaching the Great South Tower's observation deck, which stands 295 ft (90 m) high. Visitors will have a stunning view of Charles Bridge, Staré Město and Malá Strana.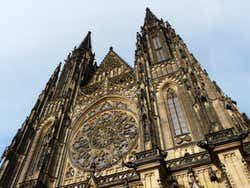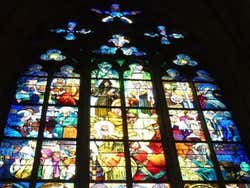 Schedule
From March to October:
Monday to Saturday: From 9 am to 6 pm
Sundays: From 12 pm to 6pm
From November to February:
Monday to Saturday: From 9 am to 4 pm
Sundays: From 12 pm to 4 pm
Price
Includes St. Vitus Cathedral, the Royal Palace, the Basilica and the Golden Alley
Adults: 250CKZ
Young people from 6 to 16 years old: 125CKZ
Children under 6 years and persons with reduced mobility: free admission
Prague Card: Free entry
Transport
Tram stop: Prazsky Hrad, line 22.