Vyšehrad, meaning "upper castle" in Czech, is thought to have been the site of the first settlement in Prague.
During the second half of the eleventh century and the first half of the twelfth century, the fort was occupied by the Přemyslids dynasty and it was remodelled as a castle and church.
According to local legends, Princess Libussa married a ploughman and they both founded the Přemyslids dynasty and the city of Prague in Vyšehrad. However, research shows that the Prague Castle was built before Vyšehrad.
This part of Prague is the least visited by tourists since most travel guides don't even mention it. Nevertheless, we believe Vyšehrad to be an interesting and a beautiful historic site.
Top attractions
These are the best places to visit in Vyšehrad:
Vyšehrad Castle
Basilica of St Peter and St Paul: Due to a fire, the temple was rebuilt at the end of the nineteenth century in a neo-Gothic style.
Vyšehrad public park: Inside the fortress is a large green space with bars, restaurants and swings. This part of Prague is a favourite among locals.
Vyšehrad cemetery: Founded in 1869 in the castle, this cemetery is the site where the remains of many well-known Czechs rest.
Is it worth visiting Vyšehrad?
Although this visit isn't essential, we recommend visiting this site if you're in Prague for a few days, as it's a great place to relax and to get away from the crowds of tourists. Exploring Vyšehrad will take you approximately an hour.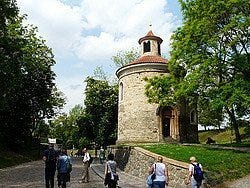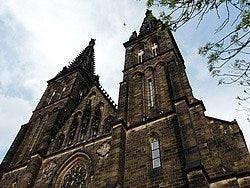 Schedule
We recommend visiting Vyšehrad early in the morning or just after lunch.
Transport
Metro station: Vyšehrad, line C.