Prague
Planning a vacation or a short city break in Prague? If your answer is yes, then this is the travel guide for you! With a section on how to get to the city, the transportation needed to get to your hotel once landed in Václav Havel Airport Prague, a list with the best areas to stay in, and the capital's top attractions, among other useful information, you'll find everything you need in this travel guide to make this trip unforgettable.
If you like this guide, don't forget to add it to your favourites and share it with your travel companions.
Why visit Prague?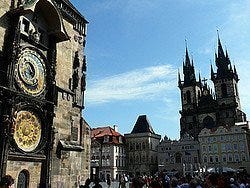 The Prague astronomical clock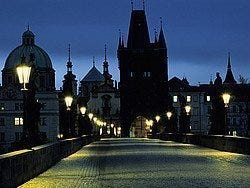 Charles Bridge
Prague is the capital of the Czech Republic and of the picturesque Bohemia region. The city, with over one million inhabitants, is known as the City of a Hundred Spires or the Golden City, and is a UNESCO world heritage site.
Exploring Prague is like immersing yourself in a fairy-tale land with its cobbled streets and its infinite number of beautiful towers and charming buildings. What's more, you'll be able to discover the city's boutiques, all exquisitely decorated, and try some of the Czech Republic's cuisine. Prague's authentic Medieval atmosphere will captivate its visitors, making it impossible to forget their visit to the Czech Republic's capital.
Before organising a trip to Prague, we recommend discovering the basic information and the fascinating history of this city.
Need accommodation?
If you haven't booked your accommodation yet, we suggest visiting our search engine, where you'll find all types of hotels, hostels and apartments with the best rates guaranteed. You can get up to a 75% discount and pay once you get to your destination.
The most complete guide of Prague
Introducing Prague has been written by travellers like yourself, with detailed and up-to-date information on the city to make the most of your trip, whether it be for a couple of days or a month. Visitors will also find tips and suggestions on how to save money in Prague, so that even if you're travelling on a budget, you can make the most of your holidays.
The information provided in this guide has been updated in June 2016. If you find a mistake or would like to make a suggestion, please do not hesitate to contact us.