Standing 140 metres above sea level, the Petřín Hill is one of the best places for views of Prague, as well as being a great park for children.
Petřín hill is one of the most lively parks in Prague. This old vineyard is one of the most delightful green spaces in the city and a favourite among locals, where many go to sunbathe or to walk down its wooded paths.
To reach the top of the hill (standing at 452 ft - 138 m), visitors can stroll through its gardens or take the funicular from Újezd street.
Petřín Lookout Tower
Standing 206 ft (63 m) tall, the Petřín Lookout Tower is very similar to the Eiffel Tower and its observation deck is the highest in Prague. From the top of the structure, you will be at 656 ft (200 m) above the Vltava River.
Petřín Lookout Tower was built two years after the Eiffel Tower by the Czech Tourist Club, who had visited Paris and had been so fascinated by the wrought iron lattice structure that they decided to build a similar one for the Jubilee Exhibition in Prague in 1891.
Mirror Maze
Located just a few feet away from the tower is the Mirror Maze, a pavilion that was also built for the Prague Jubilee exhibition in 1891.
Inside, there are a small labyrinth and a room full of convex mirrors. If you are travelling with children, this might be a fun place to visit. However, the price is a little expensive (adults: Kč 90 (US$ 4.10) and children: Kč 65 (US$ 3)).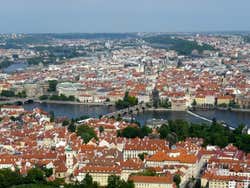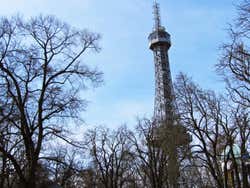 Price
Petřín Lookout Tower
Adults: Kč 120 (US$ 5.50)
Reduced (students): Kč 65 (US$ 3)
Single funicular ticket: between Kč 25 (US$ 1.10) and Kč 32 (US$ 1.50)
Prague Card: free entry
Transport
In funicular from Újezd street. The following trams will get you to Újezd street: tram 6, 9, 12, 20 or 22 and get off at Újezd.