Located in one of the most famous buildings in the city, the Prague National Museum (official name Národní Muzeum) is the most important in the Czech capital.
The neo-renaissance building was constructed between 1885 and 1891 by the renowned archictect Josef Schulz, the same architect that designed the State Opera in Prague.
Collections
In addition to the temporary exhibitions, which are frequently organized at the museum, it also features the following permanent collections:
Prehistory of Bohemia, Moravia and Slovakia
Zoology
Mineralogical and lithological exhibition
Paleontological, osteology and anthropology
Decorations and medals of other European countries.
Is it worth visiting?
Housing a very broad collection of natural science and historical artefacts, its exhibitions can be compared to other museums in Europe. However, its charm and uniqueness, in our opinion, is found in the fantastic and surprising interior of the building, making this visit definitely worthwhile. If you are travelling with children, we recommend visiting the zoology department.
NOTE: The historical building of the National Museum is currently closed. It is planned to reopen in October 2018. However, visitors can go to see the exhibitions in the other buildings of the National Museum, for example, the New Building. For more information, you can check out the official National Museum website.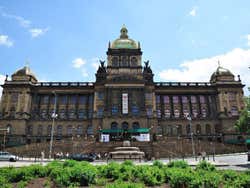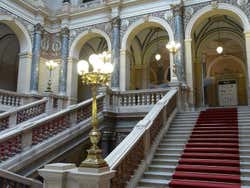 Price
National Museum New Building:
Adults: Kč 250 (US$ 11.20)
Students, seniors over 60 years old and children between 6 and 15 years old: Kč 150 (US$ 6.70)
Children under 6 years old: free entry
Prague Card: free entry.
First Monday of every month: free entry
Transport
Metro station: Muzeum, lines A and C.