Malá Strana is one of the oldest districts in Prague. Located near Prague Castle, it houses major monuments and buildings
Malá Strana, also known as Lesser Town, is one of the oldest districts of Prague. It was founded in 1257 at the feet of Hradčany, the Castle District, and is separated from Staré Město by the Charles Bridge.
Visitors will be surprised by the preservation of the buildings and monuments when walking through Malá Strana. It seems like the conflicts and several uprisings that have taken place in the heart of Prague throughout the centuries have left no trace in this area, and the palaces, squares and churches are just like they were when they were first built.
Top attractions 
Malá Strana's places of interest are:
Lesser Town Square (Malostranské náměstí): Since its foundation, it has become the heart of Malá Strana.
St Nicholas Church: The most famous Baroque church built by the Jesuits. It must not be confused with St Nicholas Church, located in the Old Town.
Church of Our Lady Victorious: Inside, visitors will be able to see the famous Child Jesus statue called the Infant Jesus of Prague.
Vrtba Garden: A romantic and unique part of the city where many choose to get married.
Kampa Island: Located in the heart of the city, it is one of the most popular gardens.
Petřín Hill: This park is one of the largest in Prague and houses the Petřín Tower, the city's best observation deck.
John Lennon Wall: Located in Grand Priory Square, it is a symbol of love and peace and was once a cause of irritability for the Communist Regime.
Vojan Park: a peaceful green-space inspired by English parks.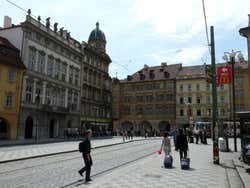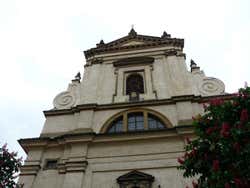 Transport
Metro station: Malostranská, line A.
Tram stop: lines 12, 20, 22 and 91.