General information on Prague
If this is the first time you visit the Czech Republic, here is a list of frequently asked questions on the country and its capital city that might answer any queries you might have such as: what currency is used in the Czech Republic? Can one get by in English in Prague? Where is the best place to exchange money?
Frequently asked questions 
More information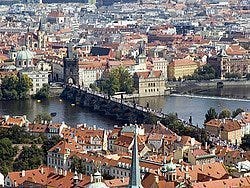 Charles Bridge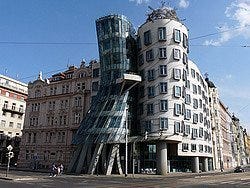 Dancing House, a different building in Prague
Prague facts & figures
Prague has over 1,5 million inhabitants, of which 81% are Czech; the female population is higher than the male.     
Prague is 662 ft (202m) above sea level.
Opening hours
The majority of stores in Prague are open from Monday – Friday from 9 am to 6 pm and on Saturdays from 9 am until midday, and close on Sundays. However, the larger shops are open until 8 pm every day. Shopping centres are normally open seven days a week until 9 pm. Banks are open 5 days a week from 9 am – 6 pm.
Electricity, plugs and sockets
In the Czech Republic, the plug socket used is type C (Europlug used in most European countries), with two round holes and one round pin. It has a voltage of 230 V and frequency of 50 Hz.  If the plugs are different in your country, we recommend you get a universal charger or you can borrow one in your hotel.
Helpful telephone numbers
Emergency calls: 112
Police: 158
Ambulance: 155
Prague area code: 02
Czech Republic area code: +42