Loreta, also known as Loreto, is one of the most important places of pilgrimage in Prague. In the centre of the cloister can be found a replica of the Virgin Mary's house.
The construction dates from 1626, although it is not until many centuries later that the building took the form it has today.
Santa Casa
Santa Casa is a replica of the alleged house where the Annunciation to the Blessed Virgin Mary took place. The original house is in Loreta (Italy).  The most impressive part of the Santa Casa is the relief panelling of the outer walls, made between the 1660s and 1670s, and its sculptures.
The Santa Casa is Loreta's most relevant building and is the reason for the foundation of the entire pilgrimage site, with the construction of the cloister and church. The first stone of the Santa Casa was put down on the 3 June, 1626.
Church of the Nativity of our Lord
On the opposite side of the main entrance of Loreta is located the temple of Loreta, the Church of the Nativity of our Lord. The church features disquieting relics, for example, two skeletons of Spanish saints dressed in clothing from the eighteenth century with wax masks hiding their faces and skulls near the altar.
Gems
Loreta includes a small museum with several liturgical objects. The most valuable item is the renowned Diamond Monstrance decorated with 6,222 diamonds, from the end of the seventeenth century.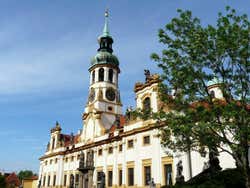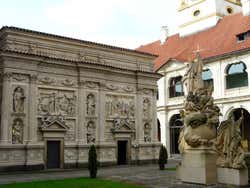 Schedule
April – October: Daily 9 am – 5 pm
November – March: Daily 9:30 am - 4 pm.
Price
Adults: Kč 150 (US$ 6.50)
Over 70s: Kč 130 (US$ 5.60)
Students: Kč 110 (US$ 4.80)
Children 6-15: Kč 80 (US$ 3.50)
Children (under 6): free entrance
Transport
Tram: Pohořelec, line 22.