Located next to the Powder Gate, the Municipal House (Obecní dům) is the most impressive Art Nouveau building in Prague
The building was built in 1912 on the site of the former Royal Court Palace, where the Old Town gives way to the New Town.
As well as being one of the finest Art Nouveau buildings in Europe, it became known worldwide in 1918 when the historic proclamation of the Independence of Czechoslovakia took place in one of its halls.
A striking construction
The Municipal House features a spectacular façade decorated with numerous statues and stuccos, as well as an enormous semi-circular mosaic on top of the main entrance.
It houses the largest concert hall in Prague, a splendid room crowned with an impressive glass dome. The building also has several conference rooms, a traditional café, a French restaurant, a Czech beer restaurant and an American bar.
Visiting the Municipal House
To discover this impressive hall we recommend having a drink in its traditional café or, if you have time, you can try one of its restaurants. 
Visitors can also do a guided tour of the building in English. For more information on the hours of the tours, visit the official website of the Municipal House: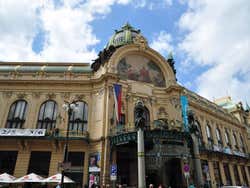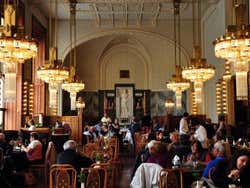 Schedule
Opening times vary depending on the day
Price
Adults: Kč 290 (US$ 12.70)
Children (ages 10 – 18), students (under 26), seniors over 60: Kč 240 (US$ 10.50)
Children (less than 10): free
15% discount with Prague Card.