These days, Staré Město is the most touristic area in Prague. In our opinion, it's the best place to take a walk around the city, and to look for accommodation.
During the eleventh century, the residents of the Castle District began settling to the east of the Vltava River founding Staré Město, also known as the Old Town. Nowadays, this area is the tourist hub of Prague.
The Old Town has an impressive Medieval urbanism formed by numerous squares, narrow lanes, mansions and churches. In its winding streets, visitors will discover the majority of the city's towers.
Staré Město is a top destination to stay in and a perfect place to go for a stroll down its cobbled streets. The Old Town Square is the centre of district 1.
Top attractions
The best places to visit in Staré Město are the following:
The Old Town Square: Without a doubt, one of the most beautiful squares of Europe.
Old Town Hall
Prague Astronomical Clock: Near Charles Bridge, it is Prague's most famous icon.
Old Town Hall Tower: Offers stunning views of the city centre.
Clementinum: A Jesuit college until 1773, the Clementinum was transformed into an observatory, library and University until 2009. It is currently the National Library of the Czech Republic.  
Powder Tower: Also called Powder Gate, it is one of the most beautiful Gothic spires in Prague with an impressive history.
Church of Our Lady before Týn: Magnificently lit up at night, it attracts all the attention of photography enthusiasts.
St Nicholas Church: Protestant church not to get confused with the St Nicholas Church in Malá Strana.
Bethlehem Chapel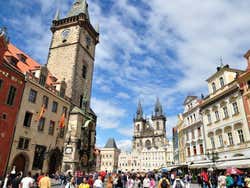 Transport
Metro stop: Staroměstská line A; Můstek lines A and B.