The Golden Lane is a narrow, small and charming street located in the Prague Castle complex, named after the goldsmiths which once lived there.
During the sixteenth century, the alleyway was called "Goldsmith Lane" because of the goldsmiths that resided in the street's miniature houses. However, with time, it became "Golden Lane".
Small colourful houses are lined on the left side of the lane, inside the walls of the castle. These buildings were first constructed for the 24 defenders of the castle in the sixteenth century.
Later on, the houses were enlarged and occupied by goldsmiths over several centuries.
During the nineteenth century, they became shelters for beggars and criminals, and finally during the twentieth century, these were evicted and the houses were transformed into shops selling puppets, glass and other traditional Czech products.
House No. 22
The Golden Lane is also very well-known because the famous Jewish-Czech writer, Franz Kafka, lived in the house No. 22 from 1916 – 1917.
Not to be missed
The Golden Lane is a memorable place to visit. You can explore several of its houses to see how the Castle's different inhabitants lived.
If you'd like to do some souvenir gift shopping while in the Prague Castle, we recommend the puppet and the Medieval armour and weapons shops. In one of the Dark Ages weapons stores it is possible to fire a crossbow and take the bull's eye home as a souvenir.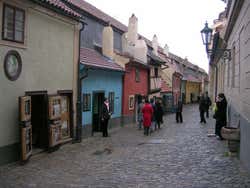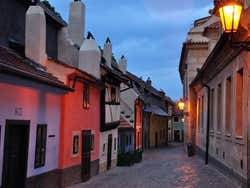 Schedule
Prague Castle complex: 6 am – 10 pm
Price
Admission to the Golden Lane is included in the Prague Castle entrance A and B circuits.
Prague Card: free entrance.
Transport
Tram: Prazsky Hrad, line 22.