The New Town was established and designed by Charles IV in 1348. This part of Prague has witnessed the city's most important historic events in the twentieth century.
The New Town (Nové Město) was established and designed by Charles IV in 1348. The town was first planned in the surroundings of three large markets; the Hay and Straw Market, the Livestock Market and a Horse Market (situated in Wenceslas Square).
Nové Město is the newest quarter in Prague and the largest of the six central districts, even larger than the Old Town and the Jewish Quarter put together.
Top attractions
These are the best places to visit in the New Town:
Wenceslas Square: One of the main city squares and a key location for the fall of Communism in Czechoslovakia.
National Museum: Building dating from 1890 that houses the most important museum in Prague.
State Opera: The State Opera was inaugurated in 1945 and is Prague's main Opera building.
National Theatre: Impressive building and symbol of the Czech national identity.
Museum of Communism: Dedicated to Czechoslovakia, it dates from the twentieth century, the period of the Communist regime.
Mucha Museum: Housed in the Kaunicky Palace, it features the works of art by the Czech artist Alphonse Mucha.
Hotel Evropa: Built in 1906, it is a unique example of Art Nouveau.
The Dancing House: A singular building set in a privileged location on the banks of the Vltava River.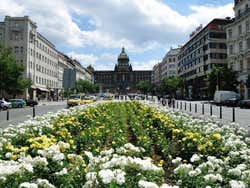 Transport
We suggest exploring the New Town district starting from Wenceslas Square. Closest Metro stations: Můstek or Muzeum.