St Nicholas Church in Malá Strana (not to be confused with the one in Staré Město) is the most beautiful and famous Baroque church in Prague.
If the Saint Vitus Cathedral is considered the most impressive Gothic style church, while St Nicholas is a Baroque masterpiece.
The initial plans of the church were made in 1673 by the Jesuits. The Chapel of St Barbara was built first so that mass could be celebrated as soon as possible. It was finished in 1711. The rest of the construction was completed in 1752.
In the square where the church is located is the Plague Column with a statue of the Holy Trinity. It was built in 1715 by one of the most important Baroque architects of the time in Bohemia, Alliprandi.
Inside St Nicholas Church
St Nicholas Church houses numerous artworks, from the frescos on the ceiling and dome to the sculptures that adorn the walls. The church was designed by K. Dientzenhofer and three generations of his family (father, son and son in law) worked on the church during the following century.
Climbing to the top of St Nicholas Church
The tower of St Nicholas Church is one of our favourites in Prague. Reaching the top is very exciting and includes numerous stops to visit different rooms of the spire. In these, you'll get to learn a lot about the church's bells and how they work.
From the top, standing 213 ft (65 m)-tall, the whole neighbourhood of Malá Strana is visible. During the communist regime, it was used to spy on the foreign embassies.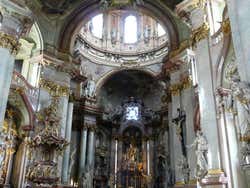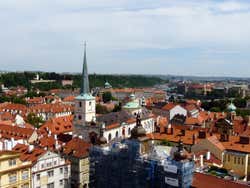 Schedule
March – October: 9 am – 5 pm
November – January: 9 am – 4 pm
February - Monday - Thursday: 9 am - 4 pm. Friday, Saturday and Sunday: 9 am - 5 pm.
Price
Adults: Kč 100 (US$ 4.40)
Children and students (ages 10 – 26): Kč 60 (US$ 2.60)
Prague Card holders and children under 10: free entrance
Transport
Tram: Malostranské náměstí, lines 12, 20, 22 and 91.