The Vrtba garden is one of the jewels of Prague, opened to the public in 1998 after an extensive remodelling which lasted eight years.
Vrtba Garden is a small Baroque garden located in the heart of Malá Strana, very near the Lesser Town Square. It was opened to the public in 1998 after eight years of remodelling.
The garden was designed in 1720 by the Czech Architect František Maxmilián Kaňka, who was also responsible for the Astronomical Tower in Clementinum.
The statues and sculptures found in the garden were created by Matyáš Bernard Braun, Czech sculptor, who had also been commissioned some of the statues standing on Charles Bridge.
The frescos in the Sala Terrena (the entrance to the gardens) were made by Václav Vavřinec Reiner.
Views of Prague
Located on the slopes of Petrin hill, Vrtba Garden is quite steep and tiered and if you climb to the top, you will be able to enjoy stunning views of the Prague Castle and Malá Strana.
A favourite spot for wedding pictures
As one of the most beautiful gardens in Prague, it is a favourite location for many newlyweds to get their wedding pictures taken.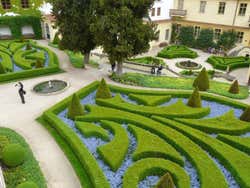 Schedule
April – October
Every day: 10 am – 7 pm
Price
Adults: 80 CZK
Children and students: 70 CZK
Transport
Tram: Malostranské náměstí, lines 12, 20, 22 and 91.