Powder Tower is one of the most famous towers in Prague and one of the most iconic buildings in the city.
The Powder Tower, also known as Powder Gate (Prašná brána), is a dark Gothic tower which serves as a gateway to the Medieval Royal Route, and is currently one of the most iconic buildings of Prague.
A covered passageway connects the tower to the Municipal House, a very interesting contrast.
History
This city gate was built in 1475 as one of the thirteen gates of the fortified wall of the Old Town. In 1541 it was burnt to the ground, but was reconstructed shortly afterwards. Two hundred years later, during the seventeenth century, the tower was used to store gunpowder, giving its name to the building.
Visiting the tower
Visitors can climb to the top of the Powder Tower to admire the "City of a hundred spires" and can also discover the Tower's exhibition on Prague's history and its towers.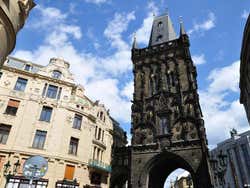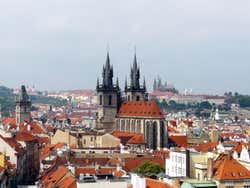 Schedule
November -February : Every day 10 am – 6 pm
March : Every day 10 am – 8 pm
April - September : Every day 10 am – 10 pm
October: Every day 10 am – 8 pm
Price
Adults: Kč 100 (US$ 4.40)
Reduced: Kč 70 (US$ 3.10)
Children under 3: Free