The bridge is 1689 ft (515 m) long and 32 ft (10 meters) wide, and used to have four lanes for horse-drawn carriages. Nowadays, it is only accessible to pedestrians. 
Charles Bridge is named after the Czech King and Holy Roman Emperor Charles IV, who commissioned its construction in 1357 to replace its predecessor, Judith Bridge, which collapsed in a flood in 1342.
The Statues of Charles Bridge
Along the Charles Bridge in Prague you'll find 30 statues on both sides of the bridge, many of which are copies as the originals are in the National Museum in Prague and in Vyšehrad and were built at the beginning of the 18th century.
The first statue added in 1683 was of the saint of Bohemia, John of Nepomuk. Jan Nepomucký, in Czech, was thrown into the river in 1393 by orders of the King Wenceslas IV and was canonized in 1729.   
Make a wish
The statue of Saint John of Nepomuk is placed in the exact spot where, according to sources, he was thrown into the river Vltava. It is believed that those who place their left hand at the base of the statue (the exact place where he was thrown off) and make a wish, will have it granted.
Along the bridge are numerous stands and artists who sell souvenirs of the city.
The bridge is always full of tourists; therefore, if you want to wander across its cobbled stones, we recommend going early in the morning.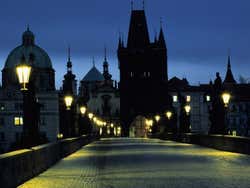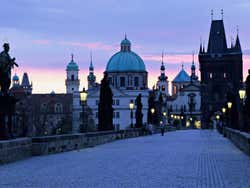 Transport
Metro: Staroměstská, line A.
Tram: Karlovy lázně, lines 17 and 18; Malostranské náměstí, lines 12, 20, 22.